CDizz Player Download
Software Program Name
:
CDizz Player
Developer: Animagics Inc.
Product Homepage:
http://www.cdizz.com
Version: 0.9856
Type: Freeware
Cost: 0.00
OS Support:
Win95,Win98,WinME,Windows2000,WinXP,Windows2003
File Size (kb): 4674
Date Added: 2006-10-11
Publisher's Description:
CDizz adds multimedia content to Audio CDs and turns ANY CD into a multimedia experience. Displays Images, Lyrics, Karaoke, Slideshows, News, Guitar Chords, Pops and more. Users can publish their CD Collection page on the web. Users can submit and share their own creations with other music lovers. (Special timing tools are included)
Screen Shot: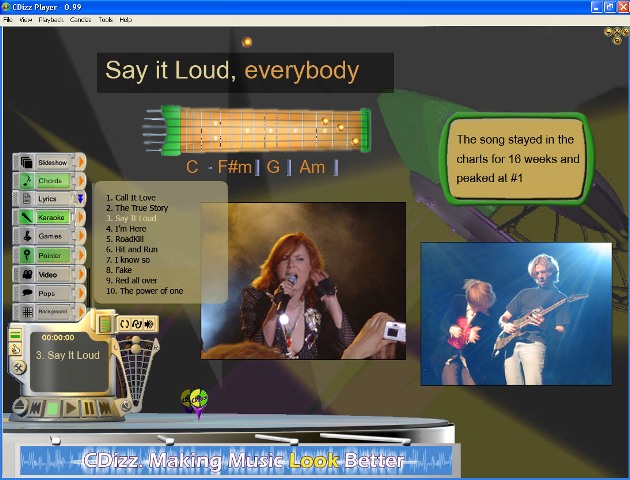 Keywords:
CDizz Player, CD,Cds,music,players,multimedia,content,Candizz,CDizz,images,karaoke,singalong,singalong,photos,pictures,chords,guitar,lyrics,po
Download:
click below to start downloading CDizz Player software.
|
Audio Multimedia
>
CD Players