CommFort Download
Software Program Name
:
CommFort
Developer: commfort.com
Product Homepage:
http://www.commfort.com/
Version: 3.00
Type: Shareware
Cost: 79.00
OS Support:
Win95,Win98,WinME,WinXP,Windows2000,Windows2003
File Size (kb): 3305
Date Added: 2006-11-12
Publisher's Description:
CommFort is a client-server chat with voice chat support designed for use in local networks. It combines all attributes of the best network communication utility, such as channels-based chat, user profiles, file and folder transfers, sound notification system and 100 graphical emoticons. The program has a well-rounded user interface, which is easy to work for both experienced users and chat first-timers.
Screen Shot: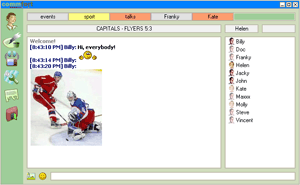 Keywords:
CommFort, commfort, chat, network, communications, server, client, lan, local area network, voice chat
Download:
click below to start downloading CommFort software.
|
Communications
>
Chat Instant Messaging