Softros LAN Messenger Download
Software Program Name
:
Softros LAN Messenger
Developer: Softros Systems, Inc.
Product Homepage:
http://messenger.softros.com
Version: 3.7.7
Type: Shareware
Cost: 10.95
OS Support:
Win95,Win98,WinME,WinNT 4.x,Windows2000,WinXP,Windows2003
File Size (kb): 2097
Date Added: 2006-12-22
Publisher's Description:
Softros LAN Messenger is a instant LAN messaging software application for home or office users. It does not require a server and is very easy to install and use. The program correctly identifies all Windows NT/2000/XP user accounts and works in any TCP/IP network. Softros LAN Messenger comes with a variety of handy features, like message notification alarms, files transfer, and intuitive interface. Supports Windows/Citrix terminal services.
Screen Shot: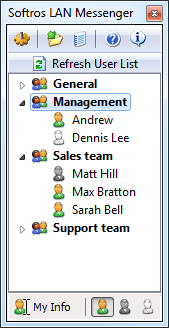 Keywords:
Softros LAN Messenger, lan messenger, lan chat, network communication, co-workers communication, messaging, chat
Download:
click below to start downloading Softros LAN Messenger software.
|
Communications
>
Chat Instant Messaging