Sound Clips for MSN Messenger Download
Software Program Name
:
Sound Clips for MSN Messenger
Developer: Messenger Tools
Product Homepage:
http://www.messengertools.net/
Version: 1.7.0
Type: Freeware
Cost: 0.00
OS Support:
Win95,Win98,WinME,WinNT 3.x,WinNT 4.x,Windows2000,WinXP,Windows2003
File Size (kb): 484
Date Added: 2006-07-17
Publisher's Description:
Sound Clips for MSN Messenger 7.5 and Windows Live Messenger allows you to send audio clips to your contacts instead of recording your own voice, and you dont even need a microphone! You simply choose any audio file and send it to them! The add-on is easy to use and your contacts dont need to have the add-on installed to hear the Custom Sound Clips! Download now, comes with 15 default sounds, and supports any MP3 or Wave (WAV) file.
Screen Shot: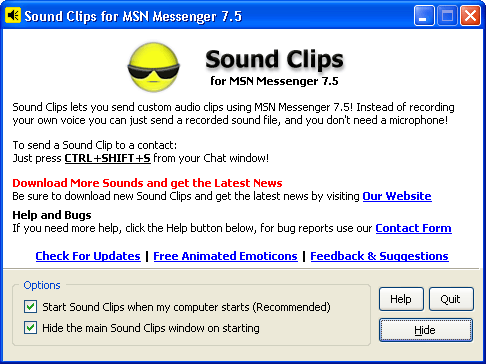 Keywords:
Sound Clips for MSN Messenger, MSN Messenger, MSN 7, MSN 7.5, MSN Messenger Voice Clips, Sound Clips, Audio Clips, Windows Live Messenger
Download:
click below to start downloading Sound Clips for MSN Messenger software.
|
Communications
>
Chat Instant Messaging