Chicken Invaders 2 Download
Software Program Name
:
Chicken Invaders 2
Developer: InterAction studios
Product Homepage:
http://www.interactionstudios.com/chickeninvaders2.php
Version: 2.60
Type: Shareware
Cost: 19.95
OS Support:
Win95,Win98,WinME,Windows2000,WinXP
File Size (kb): 3528
Date Added: 2004-11-12
Publisher's Description:
Save the solar system from invading chickens! Just when you thought it was safe to eat chicken again, the chickens have returned with an organized invasion to take over the entire solar system! Journey to each planet and fight your way through to save the world (again)! Advance through waves of invading chickens, avoiding falling eggs and collecting power-ups to boost your spaceships firepower. Fast-paced arcade action for one or two players.
Screen Shot: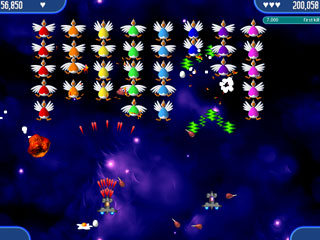 Keywords:
Chicken Invaders 2, chicken, invaders, chickens, space shooter, shoot-em-up, arcade, action, classic
Download:
click below to start downloading Chicken Invaders 2 software.
|
Games Entertainment
>
Arcade