Tetris Download
Software Program Name
:
Tetris
Developer: Crystal Office Systems
Product Homepage:
http://www.crystaloffice.com/games
Version: 1.41
Type: Freeware
Cost: 0.00
OS Support:
Win95,Win98,WinME,WinNT 4.x,Windows2000,WinXP,Windows2003
File Size (kb): 867
Date Added: 2006-01-29
Publisher's Description:
Tetris is an exciting action game. Throughout the game, Tetris pieces fall from the top to the bottom of the playing area. When the Tetris pieces form a solid row of blocks across the playing area, that row vanishes. Because this is the only way to remove blocks, you should try to form solid rows whenever possible. The game ends when the pieces stack up to the top of the playing area.
Screen Shot: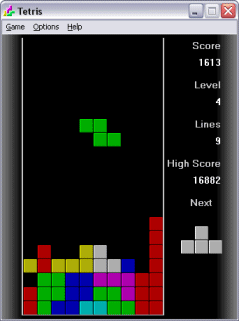 Keywords:
Tetris, tetris,game,puzzle
Download:
click below to start downloading Tetris software.
|
Games Entertainment
>
Arcade