Pinochle and Bezique by MeggieSoft Gam Download
Software Program Name
:
Pinochle and Bezique by MeggieSoft Gam
Developer: MeggieSoft Games
Product Homepage:
http://www.bufton.org/meggiesoft/pinochle.htm
Version: 2006.2
Type: Shareware
Cost: 24.00
OS Support:
Win95,Win98,WinME,WinNT 4.x,WinXP,Windows2000
File Size (kb): 2147
Date Added: 2006-09-06
Publisher's Description:
MeggieSoft Games Pinochle and Bezique is a comprehensive implementation of the Pinochle and Bezique card games (the two-player versions). Play against an online opponent or against your computer. Pinochle and Bezique has rich user interface with many visual, audio, and game options. Both are games of accumulating points from melding cards and winning tricks with the object of reaching the game target before your opponent.
Screen Shot: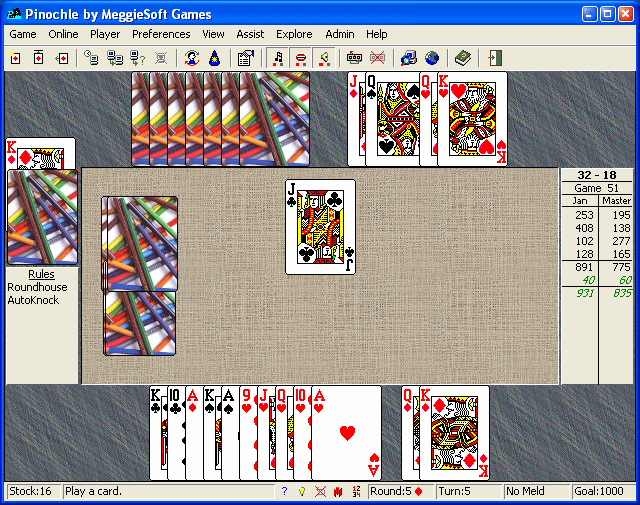 Keywords:
Pinochle and Bezique by MeggieSoft Gam, Meggiesoft, Games, Cards, Card, Pinochle, Bezique, Online, Network, Internet, LAN
Download:
click below to start downloading Pinochle and Bezique by MeggieSoft Gam software.
|
Games Entertainment
>
Card