Solitaire Wizard Download
Software Program Name
:
Solitaire Wizard
Developer: Goodsol Development Inc.
Product Homepage:
http://www.solitairewizard.com
Version: 1.0.0
Type: Shareware
Cost: 12.95
OS Support:
Win95,Win98,WinME,WinNT 4.x,Windows2000
File Size (kb): 3156
Date Added: 2001-04-17
Publisher's Description:
Solitaire Wizard is a solitaire game that includes the popular game Klondike (Windows Solitaire) and 15 other similar games. It features lush graphics, large easy-to-read cards, sound, and in-depth statistics.
Screen Shot: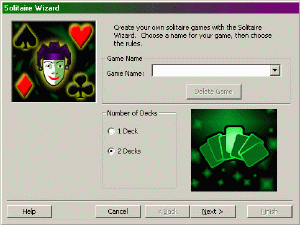 Keywords:
Solitaire Wizard, solitaire, patience, card game, klondike
Download:
click below to start downloading Solitaire Wizard software.
|
Games Entertainment
>
Card