Spider Wizard Download
Software Program Name
:
Spider Wizard
Developer: Goodsol Development Inc.
Product Homepage:
http://www.spiderwizard.net
Version: 2.0.0
Type: Shareware
Cost: 12.95
OS Support:
Win95,Win98,WinME,WinNT 4.x,WinXP,Windows2000
File Size (kb): 4329
Date Added: 2003-01-24
Publisher's Description:
Spider Wizard is an exciting solitaire card game based on the classic game Spider. Spider Wizard contains not only Spider, but 15 other similar games, including Spider One Suit and Spider Two Suits, Miss Milligan, Scorpion, Spiderette, Rouge et Noir, and Simple Simon. You can create your own Spider variations using the Spider Wizard. You can undo all your moves, automatically save a game in progress, and make moves with a single mouse click.
Screen Shot: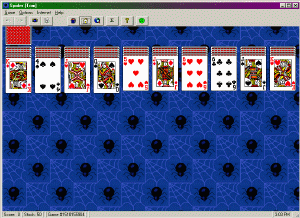 Keywords:
Spider Wizard, solitaire, patience, card game, spider
Download:
click below to start downloading Spider Wizard software.
|
Games Entertainment
>
Card