Super Splash 3D Download
Software Program Name
:
Super Splash 3D
Developer: Pixel Escape Studios Inc.
Product Homepage:
http://www.pixelescape.com/super_splash_3d.html
Version: 1.2
Type: Shareware
Cost: 14.95
OS Support:
Win95,Win98,WinME,Windows2000,WinXP,Windows2003
File Size (kb): 17218
Date Added: 2004-09-04
Publisher's Description:
Super Splash 3D brings immersive, multi-lingual coloring creativity to your PC! Join Quackers the duck on his adventure to bring color back to the world! Be taken on a wonderful journey through magical forests, deep oceans and strange lands... Anything is possible! Super Splash 3D features real-time 3D graphics, an interactive world to explore and color, as well as dialogue in the English, Spanish, French and Polish languages.
Screen Shot: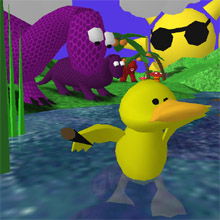 Keywords:
Super Splash 3D, kids color game education paint brush children fun entertain learn computer 3D graphics creative creativity play crayon
Download:
click below to start downloading Super Splash 3D software.
|
Games Entertainment
>
Kids