My Free Mahjong Download
Software Program Name
:
My Free Mahjong
Developer: MyPlayCity.com
Product Homepage:
http://myplaycity.com/free_mahjong
Version: 3.0
Type: Freeware
Cost: 0.00
OS Support:
Win98,WinME,WinXP,Windows2000,Windows2003
File Size (kb): 2421
Date Added: 2006-10-23
Publisher's Description:
Congratulations on choosing My Free Mahjong! It is a traditional Chinese game for centuries, Mahjong combines elements of skill, strategy, memory, and intuition into a challenging game of patience. This is a single-player 3D version of a classic favorite. My Free Mahjong breaks into reality - it becomes truly 3D. Now you can see the board from any point. Download My Free Mahjong and Play for Free!
Screen Shot: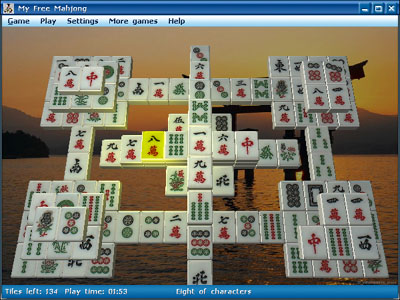 Keywords:
My Free Mahjong, My Free Mahjong, Free Mahjong, Mahjongg
Download:
click below to start downloading My Free Mahjong software.
|
Games Entertainment
>
Puzzle Word Games