Backup Wolf Download
Software Program Name
:
Backup Wolf
Developer: Lone Wolf Software
Product Homepage:
http://www.lonewolf-software.com/backupwolf.htm
Version: 3.14
Type: Shareware
Cost: 29.95
OS Support:
Win95,Win98,WinME,WinNT 4.x,Windows2000,WinXP,Windows2003
File Size (kb): 5311
Date Added: 2006-06-11
Publisher's Description:
Backup Wolf Data Defender. The Backup Software Solution for Home or Business. Backup Wolf makes the tedious process of backing up files and folders on your hard drive effortless and quick. ? Fast precision backups ? Full and Incremental backup options ? Backup across network drives! ? Updates old backups in seconds! ? Easy to use \"Step-by-step\" design STOP Risking Your Data! DEFEND IT with Backup Wolf! Free 30 Day Trial.
Screen Shot: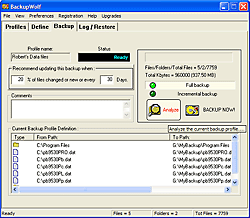 Keywords:
Backup Wolf, backup,backup software,recover,file,utility,restore,system,back up,data,recovery
Download:
click below to start downloading Backup Wolf software.
|
System Utilities
>
Backup Restore