R-Drive Image Download
Software Program Name
:
R-Drive Image
Developer: R-tools technology Inc.
Product Homepage:
http://www.drive-image.com/
Version: 4.4
Type: Shareware
Cost: 44.95
OS Support:
Win98,WinME,WinNT 4.x,Windows2000,WinXP,Windows2003,Windows Vista
File Size (kb): 10987
Date Added: 2007-11-06
Publisher's Description:
R-Drive Image is a potent utility providing disk image files creation for backup or duplication purposes. A disk image file contains the exact, byte-by-byte copy of a hard drive, partition or logical disk and can be created with various compression levels on the fly without stopping Windows OS and therefore without interrupting your business. These drive image files can then be stored in a variety of places, including various removable media such as CD-R(W)/DVD, Iomega Zip or Jazz disks, etc. R-Drive Image restores the images on the original disks, on any other partitions or even on a hard drives free space on the fly. To restore system and other locked partitions R-Drive Image is switched to the pseudo-graphic mode directly from Windows or bootable version created by the utility is launched from CD disc or diskettes.
Screen Shot: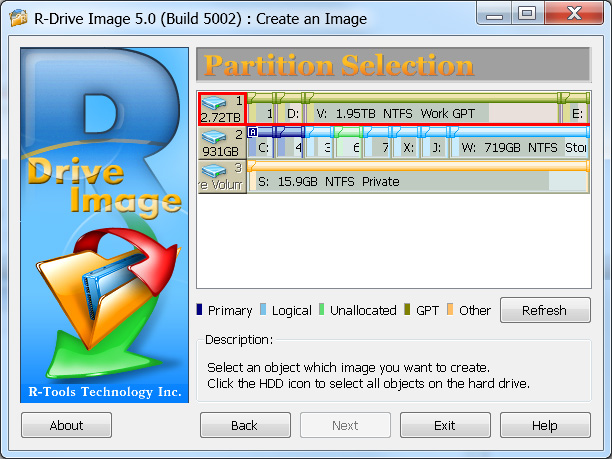 Keywords:
R-Drive Image, drive image,disk image,backup,back up,backup software,drive image software,disk image software,image drive,disk copy,drive copy,
Download:
click below to start downloading R-Drive Image software.
|
System Utilities
>
Backup Restore